In Summary - Nurse Prescriber
Career Sectors
Nurse Prescribers typically work in the following Career Sectors:
The Work - Nurse Prescriber
If you're interested in becoming a Prescriber have a look at this DVD: Nurse and Midwife Prescribing - A Prescription for Practice.
It features Nurse and Midwife prescribers from across the country, explains how candidates are selected and mentored, the work of the Drugs and Therapeutics Committee, and the impact being a prescriber has on patients.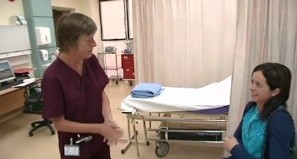 View this DVD in Chapters on the HSE's Youtube Channel
Most commonly reported Work Tasks
Prescribe medication dosages, routes, and frequencies based on patient characteristics such as age and gender.
Order, perform, or interpret the results of diagnostic tests, such as complete blood counts (CBCs), electrocardiograms (EKGs), and radiographs (x-rays).
Analyze and interpret patients' histories, symptoms, physical findings, or diagnostic information to develop appropriate diagnoses.
Develop treatment plans based on scientific rationale, standards of care, and professional practice guidelines.
Diagnose or treat acute health care problems such as illnesses, infections, or injuries.
Prescribe medications based on efficacy, safety, and cost as legally authorized.
Counsel patients about drug regimens and possible side effects or interactions with other substances such as food supplements, over-the-counter (OTC) medications, or herbal remedies.
Recommend interventions to modify behavior associated with health risks.
Detect and respond to adverse drug reactions, with special attention to vulnerable populations such as infants, children, pregnant and lactating women, or older adults.
Educate patients about self-management of acute or chronic illnesses, tailoring instructions to patients' individual circumstances.
Most commonly reported Work Activities
Assisting and Caring for Others

Providing personal assistance, medical attention, emotional support, or other personal care to others such as coworkers, customers, or patients.

Getting Information

Observing, receiving, and otherwise obtaining information from all relevant sources.

Making Decisions and Solving Problems

Analyzing information and evaluating results to choose the best solution and solve problems.

Updating and Using Relevant Knowledge

Keeping up-to-date technically and applying new knowledge to your job.

Documenting/Recording Information

Entering, transcribing, recording, storing, or maintaining information in written or electronic/magnetic form.

Establishing and Maintaining Interpersonal Relationships

Developing constructive and cooperative working relationships with others, and maintaining them over time.

Analyzing Data or Information

Identifying the underlying principles, reasons, or facts of information by breaking down information or data into separate parts.

Performing for or Working Directly with the Public

Performing for people or dealing directly with the public. This includes serving customers in restaurants and stores, and receiving clients or guests.

Identifying Objects, Actions, and Events

Identifying information by categorizing, estimating, recognizing differences or similarities, and detecting changes in circumstances or events.

Interacting With Computers

Using computers and computer systems (including hardware and software) to program, write software, set up functions, enter data, or process information.
Interests - Nurse Prescriber
This occupation is typically suited for people with the following Career Interests:
Social
The Social person's interests focus on interacting with the people in their environment. In all cases, the Social person enjoys the personal contact with other people in preference to the impersonal dealings with things, data and ideas found in other groups.

Many will seek out positions where there is direct contact with the public in some advisory role, whether a receptionist or a counsellor. Social people are motivated by an interest in different types of people and like diversity in their work environments. Many are drawn towards careers in the caring professions and social welfare area, whilst others prefer teaching and other 'informing' roles.
Investigative
The Investigative person will usually find a particular area of science to be of interest. They are inclined toward intellectual and analytical activities and enjoy observation and theory. They may prefer thought to action, and enjoy the challenge of solving problems with sophiscticated technology. These types prefer mentally stimulating environments and often pay close attention to developments in their chosen field.
Realist
Realists are usually interested in 'things' - such as buildings, mechanics, equipment, tools, electronics etc. Their primary focus is dealing with these - as in building, fixing, operating or designing them. Involvement in these areas leads to high manual skills, or a fine aptitude for practical design - as found in the various forms of engineering.

Realists like to find practical solutions to problems using tools, technology and skilled work. Realists usually prefer to be active in their work environment, often do most of their work alone, and enjoy taking decisive action with a minimum amount of discussion and paperwork.
Entry Requirements - Nurse Prescriber
To train as a Nurse Prescriber you must already be registered as a Nurse (RNID/RPN/RGN/RCN/RM) with the NMBI. You may then apply to undertake an education programme leading to registration as a Nurse Prescriber.
Further information is available from the Schools of Nursing in DCU, NUIG, RCSI, TCD, UCC, UCD and UL.
Last Updated: October, 2014
Pay & Salary - Nurse Prescriber
Salary Range (thousands per year)* €27k - €43k
Data Source(s):
HSE.ie
Last Updated: June, 2017
* The lower figures typically reflect starting salaries. Higher salaries are awarded to those with greater experience and responsibility. Positions in Dublin sometimes command higher salaries.
Labour Market Updates - Nurse Prescriber
Despite a decline in employment, the demand for certain types of nursing skills has remained strong and has resulted in shortages. Work patterns and certain geographical locations are also impacting on recruitment and retention of nurses.

National Skills Bulletin 2018
Useful Contacts - Nurse Prescriber
Irish Nurses & Midwives Organisation (INMO)

The Whitworth Building, North Brunswick Street, Dublin 7

An Bord Altranais/Nursing & Midwifery Board of Ireland (NMBI)

18-20 Carysfort Avenue Blackrock Co Dublin